Programs > 30 elephants under the umbrella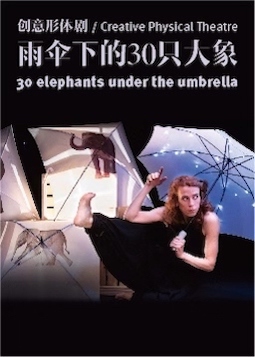 30 elephants under the umbrella
2019-10-18 - 2019-10-19
Duration:35min
Series:drama
People Suitable:2-5
Location:Roewe Theatre
Perform Type:Creative drama
【DATE】 2019.10.19 Sat. 10:00 11:30 16:00 2019.10.20 Sun. 10:00 11:30 16:00 【Duration】35mins 【Age Recommended】2-5 【Performance】La Petita Malumaluga 【VENUE】 上海儿童艺术剧场 (上汽荣威儿童文化中心) 黄浦区苗江路800号
480 / 340 / 180
30 elephants under the umbrella explains the story of the roles of several elephant into a complex society. Of course, it is also meant to be a metaphore of a human society. This production describes the rich and complex feelings of a mother at the moment of a birth, the impossible dreams of a teenager, and the blues and solitude of an old elephant that has lost her partner, among others.
Dance, physical theater and music are combined in this intimate story where the voice works as a soundtrack.
It is a rich production meant to entertain, but also to touch, adults and children.